Dr. Jackson Appointed Executive director of Christiana Care Health System's Value Institute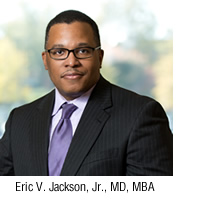 On behalf of the society, congratulations are extended to SPA member Eric V. Jackson, Jr., MD, MBA on his recent appointment as Executive Director of the Christiana Care Health System's (CCHS) Value Institute (VI). In this role, Dr. Jackson will report directly to the Chief Clinical Officer.
Dr. Jackson joined Christiana Care in 2012 to help launch the Value Institute. As Associate Director, Dr. Jackson has overseen the integration of clinically connected pragmatic implementation science for all the service lines within Christiana Care. He is also the director of the Center for Health Care Delivery Science within the VI.
CCHS is a major regional academic medical center that provides the vast majority of non–VA adult medical care to the population of northern Delaware. CCHS is composed of two acute care hospitals - Christiana Hospital in Newark (the flagship hospital with a Level 1 trauma center), and Wilmington Hospital in Wilmington (a recently renovated and expanded urban hospital with high elective surgical volume). CCHS employs between 200-300 physicians across a range of medical specialties. Virtually all of the approximately 1,800 private practitioners in Northern Delaware are affiliated with and have admitting privileges at CCHS hospitals. As such, CCHS is unique among major metropolitan areas in that delivery system improvements translate directly into improved population care and health. The population served by CCHS is socio–demographically representative of the U.S. CCHS ranks top 20 in the U.S. in both hospital admissions and Emergency Department visits.
CCHS is committed to providing high-quality, high-value, patient-centered care. To achieve this objective, Christiana Care founded the Value Institute in 2011. The VI is Christiana Care Health System's major research institute for clinical, health services, outcomes and translational research. The VI develops, delivers and evaluates innovative solutions impacting population health, patient experience, system performance and policy development. The VI is composed of more than 35 research staff and includes the Center for Health Care Delivery Science, with strength in research design, biostatistics, epidemiology, industrial engineering, health economics, and data management and analytics.
Under Dr. Jackson's leadership, the Value Institute has attained national recognition, received more than $20 million in grant funding, including Northern Delaware's multi-institutional Center for Translational Research (CTR), and published more than 170 articles. In addition, the Value Institute has assisted with major projects within the health system, including making recommendations about optimal workflow design in Christiana Care's new $250 million Women's and Children's Tower, using electronic health records and nursing assessment to redesign clinical early warning systems and improving systems of care for vulnerable patient populations. The VI recently received a $13 million gift from the Harrington Trust to develop strategies to address the social determinants of health for vulnerable Delawareans.
Dr. Jackson serves as an advisor to several prestigious medical societies and organizations including the National Academy of Medicine, the Society for Pediatric Anesthesiology, Press Ganey's Institute for Innovation, and the G4 Alliance (An international advocacy group for safe surgery). In addition, Dr. Jackson is on the editorial board for the American Journal of Medical Quality.
While at Johns Hopkins, Dr. Jackson co-founded the Austere Anesthesia Health Outcomes Group with fellow longstanding SPA members Dr. Benjamin Lee MD, MPH, and Rahul Koka MD, MPH resulting in nationwide perioperative safety improvements for several low income countries including Sierra Leone, and Malawi.
Dr. Jackson completed his residency and fellowship training at the Johns Hopkins Medical Institutions in Baltimore, Md., where he served as a pediatric anesthesiologist, assistant professor and director of the Center for Immersive Simulation and Telemedicine, co-founded by fellow SPA member Benjamin Lee MD MBA, in the Department of Anesthesiology and Critical Care Medicine. He is a graduate of the Temple University School of Medicine and the George Washington University School of Business.